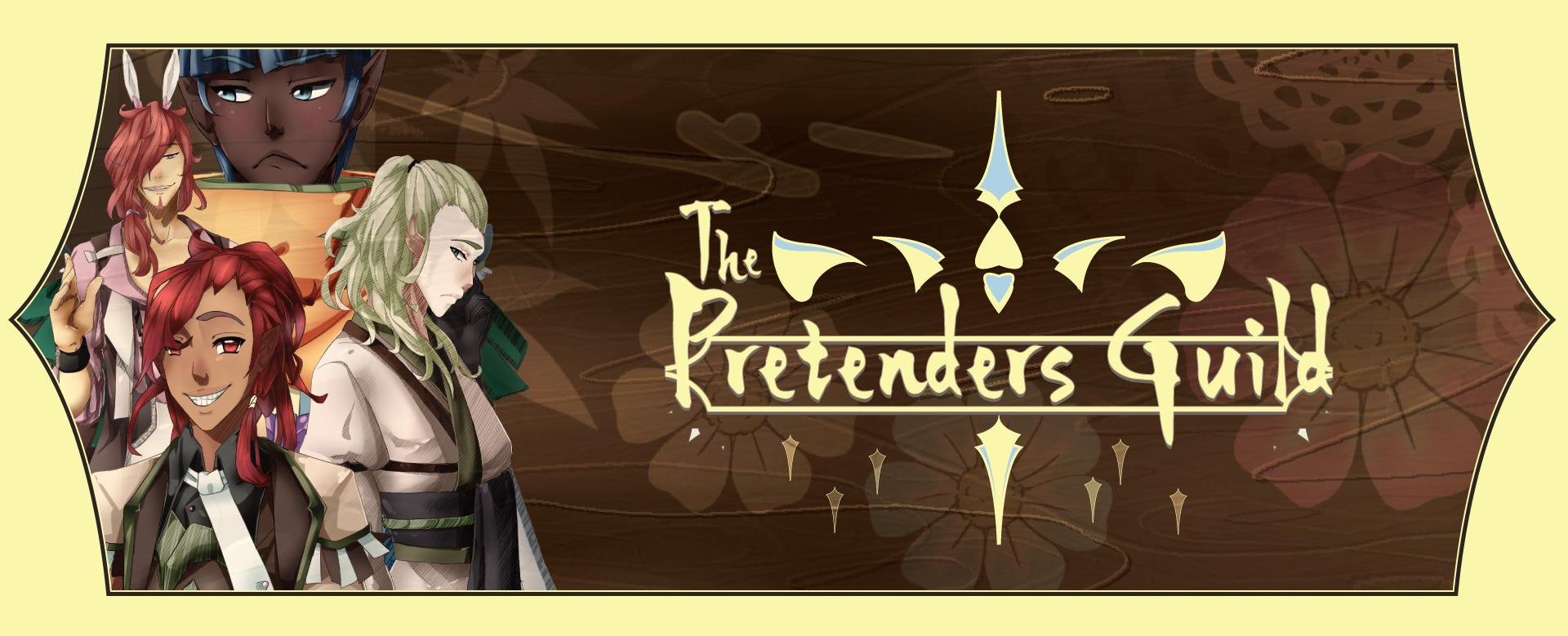 The Pretenders Guild
A downloadable Visual Novel for Windows, macOS, and Linux
Update August 12, 2022:
Added a guide down below.

Paris and Ash have been forced to close their restaurants and sail to New Trinity after their hometown becomes little more than a rundown hunk of grass floating in the sea, thanks to the king and his taxes. They need money quick, and find an advertisement for a job requiring a guild to escort someone to the capital city. Join the adventure as two best friends fake their way through a get rich quick scheme and end up loving the consequences. Literally?

Become Ash and customize their gender, pronoun, look, voice, and background.
Different backgrounds means you can play all 3 romantic routes 2 different ways.
An emotion-based choice system, with hints you can turn on and off.
30 CGs.
A full original soundtrack, which is available on soundcloud.
An immersive, 98,000 word adventure about friendship and honesty (or lack there of)
8 endings, and other unlockable scenes and content
Make the game yours by choosing the main menu screen!
Full voice acting!
Accessibility: You can change the font from the main menu.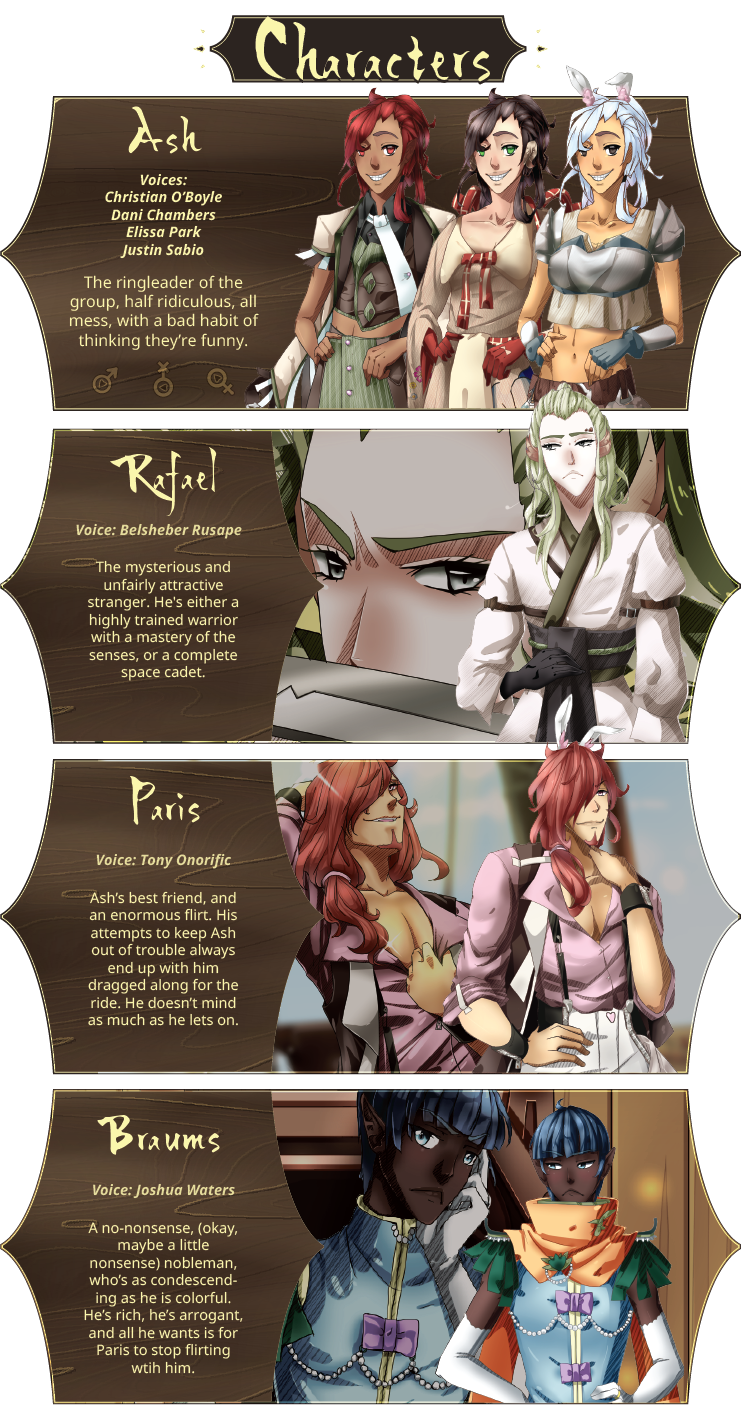 Language
Descriptions of intimacy
Brief nudity
Minor drug and alcohol content
Violence
Meet the voices who will bring these characters to life
(Full list available in end credits)
Minh Ton (@minhyva)
Current version: 4.1
Update August 1, 2021:

The Pretenders Guild is now fully voiced! There are some minor audio issues that will be taken care of in the upcoming weeks.
Follow The Pretenders Guild tumblr for updates on voice acting and CGs.

Become a patron of Harlevin Studios here.
Project Manager: Miranda Reeder
Story, Art, Music, Programming: Harlevin Studios
Guide Start
#Intro
##Rafael
Choose the shika emblem for your guild (the one with horns)
Name your guild "Guild"
Chocolate cake
##Paris
Choose the cubi emblem for your guild (the one with bunny ears)
Carrot bread
##Braums
Choose the reaver emblem for your guild (the one with three points)
Don't read the letter
#Chapter 1
##Rafael
I hate rats - Gentle [Well, I wasn't expecting that...]
What are you doing out here? - Flirty [Anyway, I was looking for you / I was looking for you of course!]
##Paris
I need the room for a little while - Angry [Yeay, yeah, I got it.]
Who are you? - Flirty [Who am I?]
##Braums
Bring me something to drink - Logical [Ah...]
Do I look feminine to you? - Yes [ I do]
I need a distraction - Angry [Okay, stop!]
Nevermind... - Gentle [It doesn't take a genius to know he wants to ask me something]
#Chapter 2
##Rafael
Where is he going? - Gentle [Eh...]
##Paris
We'll just have to share - Flirty [Ooh, looks like I might have some sweet dreams after all!]
##Braums
It's your job to protect me, so... - Logical [It's all right, I have to go, too.]
Should we go right? - No [Uhhhh]
#Chapter 3
##Rafael
What should I say - Funny [I clap for him, letting out a few cheers]
Did I say something funny? - Gentle [I shake my head, unwrapping the necklace and freeing it]
Let's make a play - Flirty [I look over at Rafael, sliding closer to him]
##Paris
What should I say? - Flirty [...You know...I think your scars are hot]
Let's make a play - Funny [Ooh, Paris and I can be the leads! We'll be furious rivals in a race against time!
##Braums
Forget this ever happened - Gentle [There's no way I'm going to just let Braums cry in his room alone.]
Do you...like plays? - Flirty [Why Lord Braums, are you inviting me out?]
Let's make a play - Logical [I'll be the writer and director!]
#Chapter 4
##Rafael
... - Logical [Difficult
Was I incorrect? - Gentle [I-I mean, um...I wasn't...I didn't...]
##Paris
Does the fact that you were paying attention mean you're interested? - Flirty [I make a valiant effort to wipe the look of terror off my face, covering it up with a smirk]
How to proceed... - Logical [Welp, there's bound to be tons of berries and mushrooms around nearby. That'll do!]
##Braums
I should say something to cheer him up - Logical [Look, I would happily vouch for you.]
I don't want to let you all down - Gentle [Braums, you're going to be a great king]
#Chapter 5
##Braums
Then Braums comes to me - Gentle [Despite how queasy this whole thing is making me feel, I'm really glad he's okay. I'm glad we all are.]
Braums is kissing me - Flirty [The complicated thoughts that had been swirling around in my head are immediately gone in favor of thoughts exclusively for the Reaver sharing my blanket.]
##Paris
Paris kissed me - Flirty [No...]
I feel - Logical [You know Paris...I feel like a terrible person, but I keep thinking.]
| | |
| --- | --- |
| Updated | 27 days ago |
| Status | Released |
| Platforms | Windows, macOS, Linux |
| Rating | |
| Author | Harlevin |
| Genre | Visual Novel, Interactive Fiction |
| Made with | Ren'Py |
| Tags | Character Customization, Comedy, LGBT, Otome, Ren'Py, Romance, Voice Acting, Yaoi |
| Average session | About an hour |
| Languages | English |
| Inputs | Keyboard, Mouse |
| Accessibility | One button |
Download
Install instructions
If you find any typos or bugs, please don't hesitate to e-mail me at aferalcircus@gmail.com!