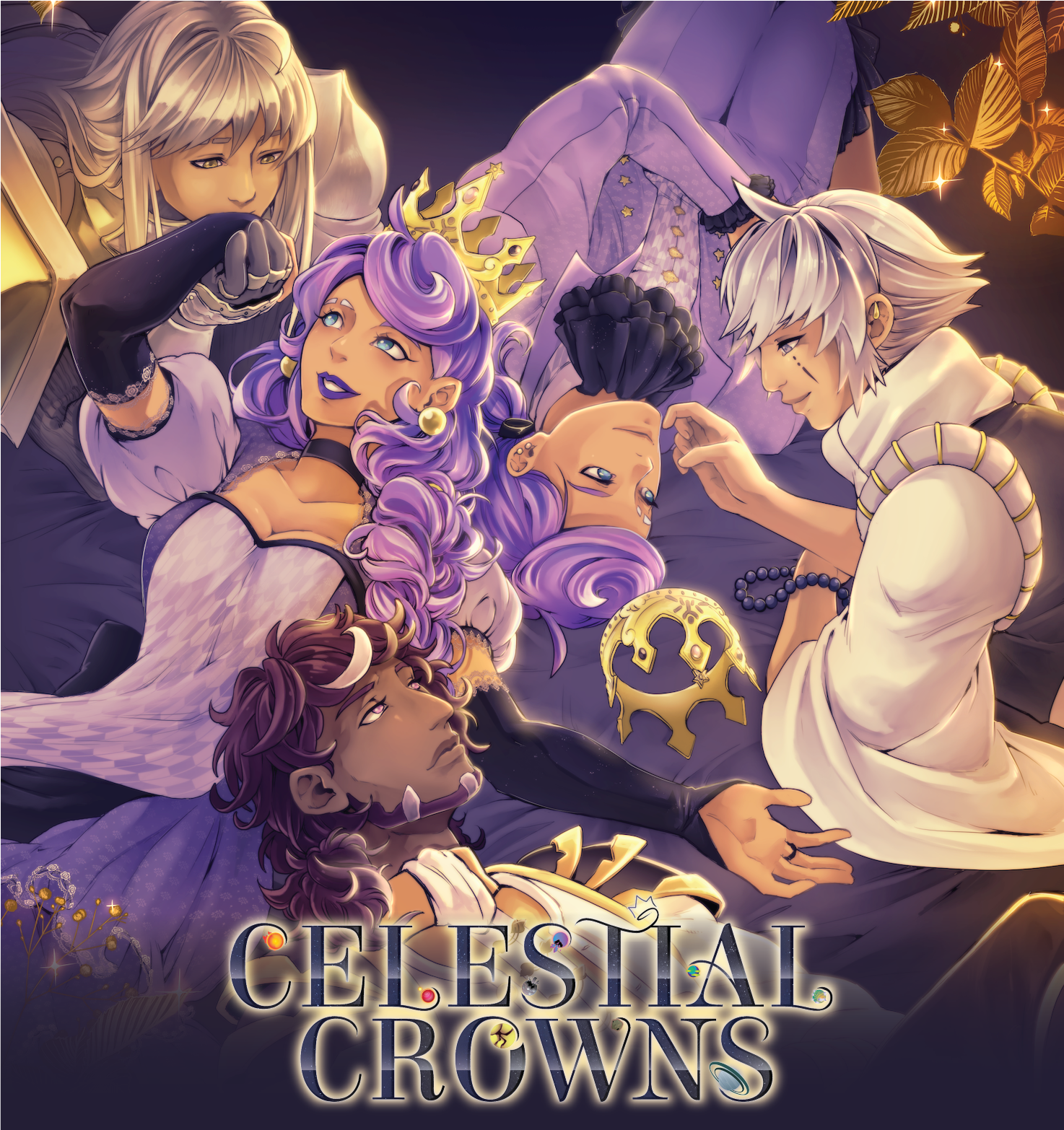 Celestial Crowns
A downloadable Visual Novel

Follow the project on Kickstarter to be notified when it goes live!
Commit to pledging now to get a free keychain when you back the project in May! More details here.
Celestial Crowns is a fantasy/romance visual novel. Customize your character, go to war, learn magic, and so much more!

Set in a world where they worship the stars, play as the newly crowned Ruling Monarch of the kingdom of Lauté. In ancient times, the Royals were masters of the elements with the ability to spellcraft that made people believe they were gods. Nowadays, the ability has faded with misuse, and the only Royal left known to have this ability is King Aalam of Andromeda. With your kingdom on unsteady ground after your father's recent assassination, this dangerous King with magic beyond comprehension has an offer you can't ignore:

Accept his hand in marriage, or go to war.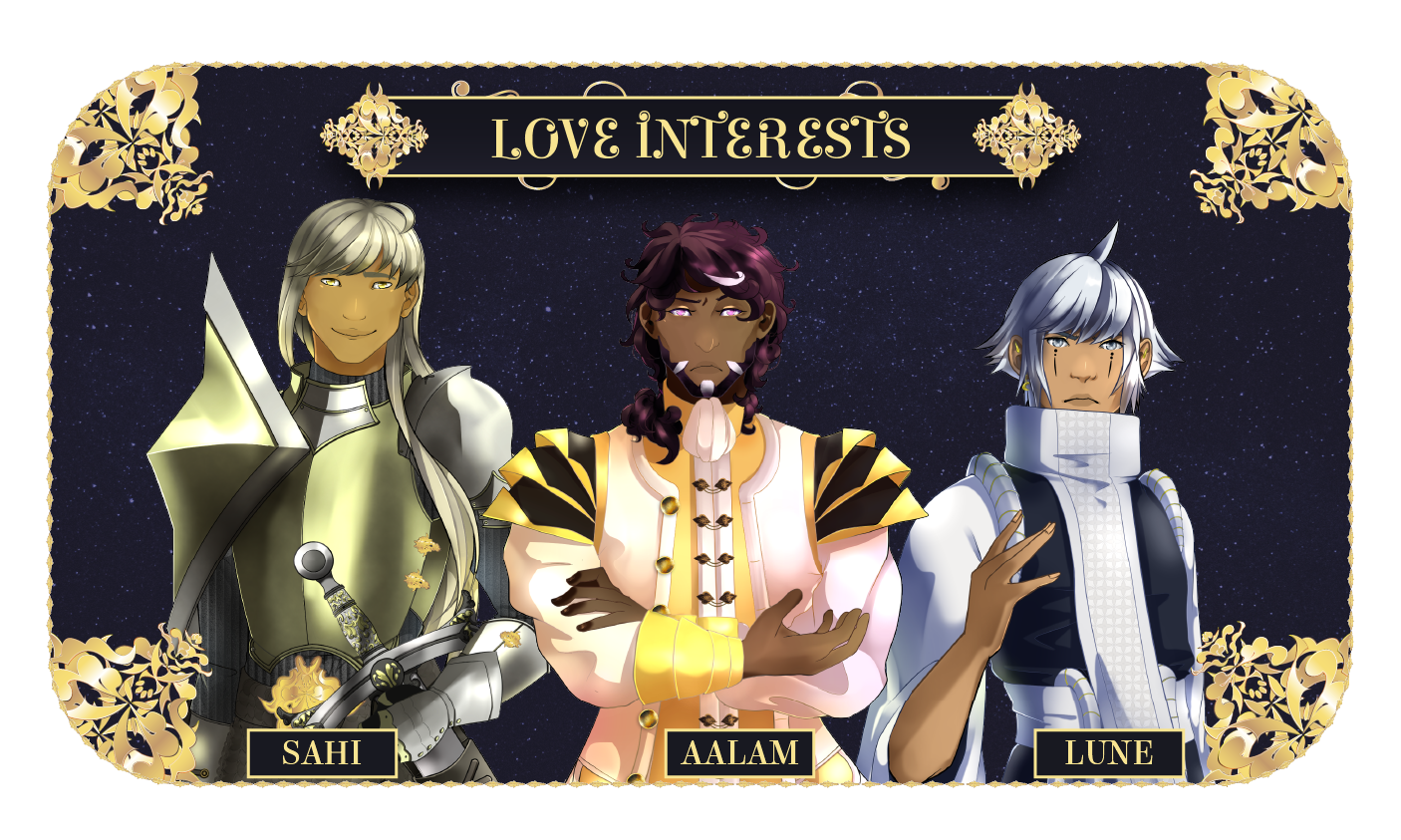 THE CHILDHOOD FRIEND
Sahi is the general of the Lauté army. He is very much against both options and feels that there has to be a middle ground, somewhere. But his aversion to the marriage option may have something to do with the fact that he's been hopelessly in love with you for years.
THE SHAMELESS FLIRT

Aalam is the King of Andromeda. For unknown reasons, he is determined to have your hand in marriage. But no one knows anything about him, not even what he looks like. Can you really accept stepping down from your throne to join him in Andromeda?
THE HOPELESS TSUNDERE
Lune is the Royal Advisor. He believes you should accept King Aalam's offer of marriage before irreparable damage is done to both countries. Lune doesn't think you're fit to rule and isn't afraid to tell you. It's not like he likes you or anything.

All 3 love interests have their own plot within the overarching story of Celestial Crowns. The routes will vary greatly, feature 50K (estimate) words of new content, and allow you to visit new locations and meet new characters.

A story-driven narrative with stat-building aspects that allows a unique experience in each playthrough.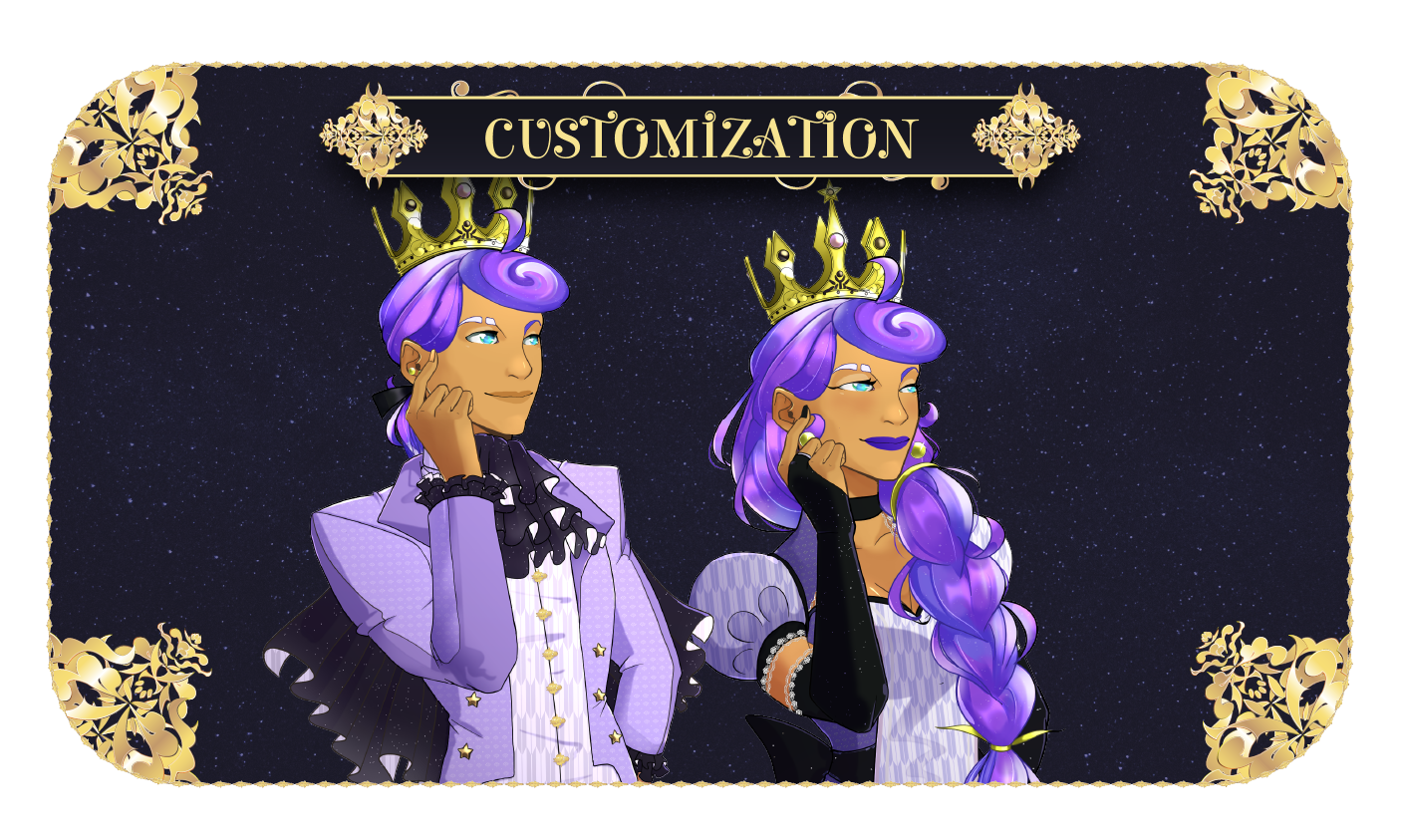 Create your character: The default player name is "Terra," but you can adjust the main character's name and choose their body type and pronouns.


Choose your personality: Your choices will add stats to the MCs personality. Mix and match different traits to shape different scenes and find your ending. Players will have choices based on 9 different traits. There can be as many as 9 different options for every choice encountered. More stats in certain traits will unlock more choices down the road for endless replayability!
Find your affinity! Your spellcrafting element will be determined by the choices you make in the common route. Throughout the game, you can master ice, fire, earth, or lightning. Spellcrafting is featured more heavily in some routes than others.
📖 Estimated 300K words
🎨 Estimated 40 CGs
💖 3 love interests
🎭 Customizable MC
🎬 9 endings
❤️‍🔥 Optional 18+ scenes

Sprites, Design, Writing - Harlevin (@CapMinyan)

Editing - Leah (@Averxy)
Editing, reward design - Anim8dn8
CGs - Erupan (@ErupanGalactic)
Music - FaeFeld Productions (@Faefield_P)
Sound design - Slaleky (@Slaleky)

The demo is complete and will be released with the launch of the Kickstarter. Celestial Crowns is currently estimated for release in late 2024.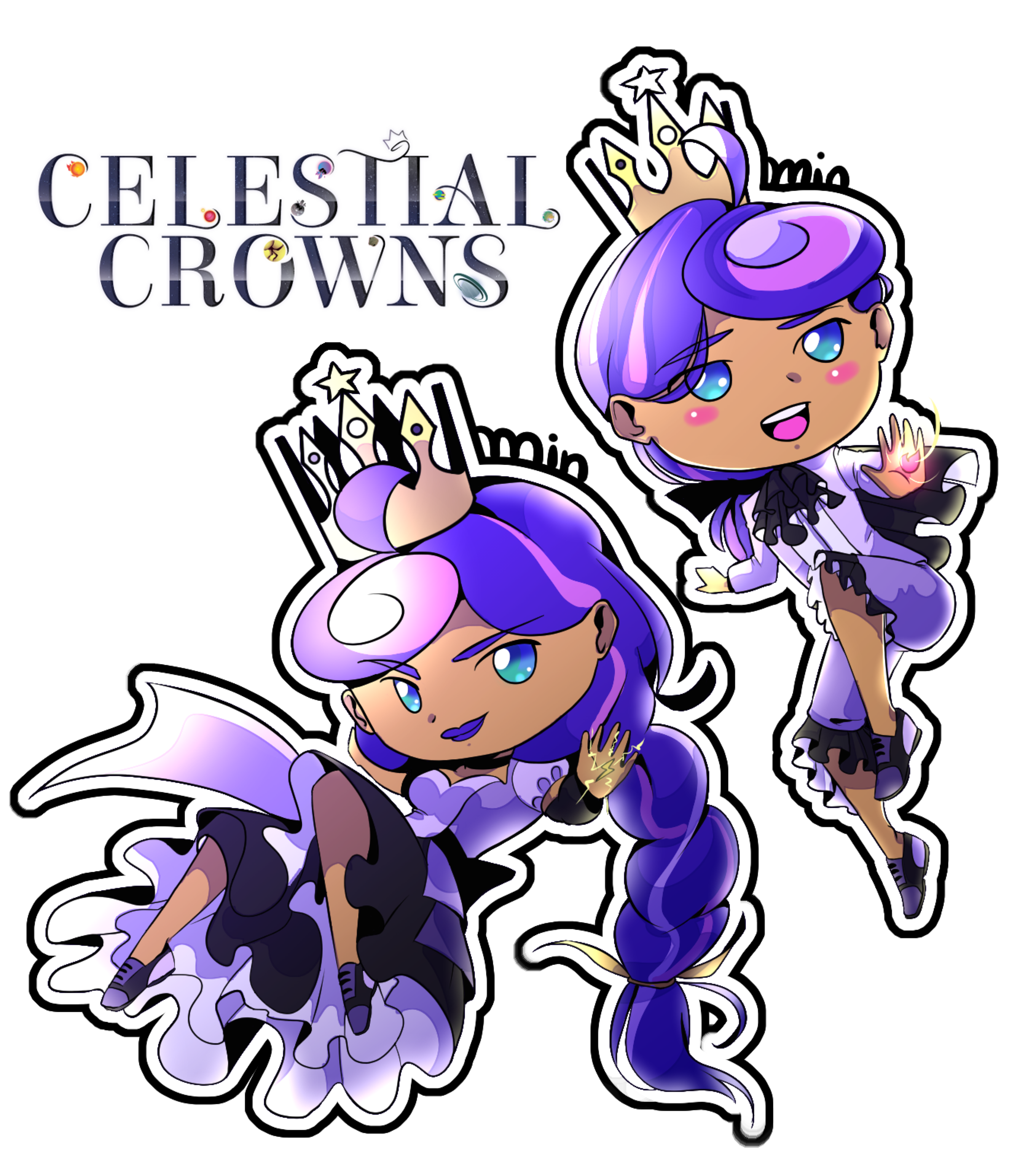 Follow for previews and updates:
https://celestialcrownsvn.tumblr.com
See the devlog below
vvv
| | |
| --- | --- |
| Updated | 2 days ago |
| Status | In development |
| Release date | in 1 year |
| Rating | |
| Author | Harlevin |
| Genre | Visual Novel |
| Made with | Clip Studio Paint, Adobe Illustrator, Ren'Py |
| Tags | Boys' Love, Character Customization, Fantasy, Gay, Kickstarter, LGBT, Meaningful Choices, Otome, Romance |
| Average session | About a half-hour |
| Languages | English |
| Inputs | Keyboard, Mouse |
| Accessibility | Subtitles, One button, Blind friendly |
| Links | Kickstarter, Blog, Twitter |
Comments
Log in with itch.io to leave a comment.
Welp, ik what i'll be looking forward to.
Ooooooh minyan!!!!! Another game! So exciting! I have GOT to get my VN on again... took a break for a bit... still doing the VO... and naturally thought about your games. My heart is in my throat waiting for this.
Hiii! Yes, it's good to be back! Word on the street is I'll be doing paid voice acting for this game if the KS goes through...so I'll def link you to the auditions!
Much thanks!!! You know you're one of the few where I'd do it for free (ssshhh!) even if the KS is short by a bit.
ahhhh this looks super cool!!! I'll be following this one for sure owo
Android please???? And download button where?
Its not out yet that's why
I can only approuve games with ruling Queen! Looking forward to know more about this game fellow dev!
This looks interesting. I'll download it later today and let you know what I think so far.
Oh, okay then. I thought there was something to download, but that's fine. I did read the dev log already and it sounds pretty good so far. Can't wait till there's something to try out!