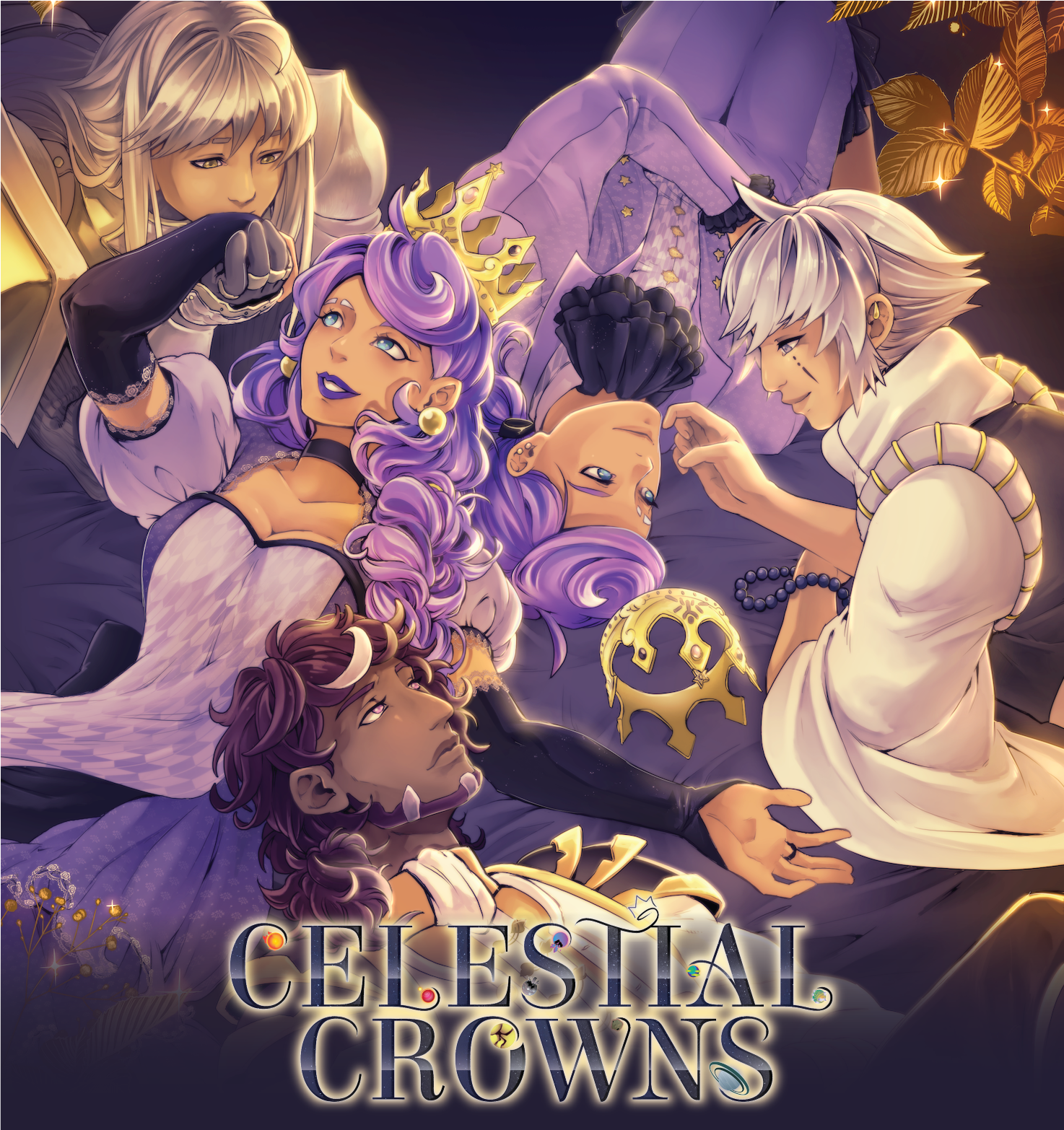 Celestial Crowns

Hello itch! I am back from a long hiatus. I am starting a new game to re-inspire myself, as well as try to build a bigger fanbase and raise funds for the continuing development of Arena Circus. I'm certainly not giving up on Arena Circus, I just need a break. I really burned myself out working on it. The scale is so large and I've been working on it alone for so long, I got discouraged. This idea has been on the back burner for a while and I'm hoping something new will remind me how much I love VN development. So please enjoy, and let me know your thoughts! I will be updating the develog weekly, but you can follow me on Twitter @CapMinyan for various sneak peeks. There's also a tumblr that I'll update weekly, with similar content: https://celestialcrownsvn.tumblr.com
Premise:
Celestial Crowns is a medieval fantasy/romance visual novel that features political drama, war, magic, and more! Set in a world where they worship the stars, play as the king or queen of the kingdom of [unnamed], newly crowned after your father has passed. With the kingdom on unsteady ground, the king of your neighboring kingdom has an offer you can't ignore:
Marry him, or go to war.
Features
I am currently fleshing out the outline and I'm guestimating this will be around 150,000 words.
40,000 (estimate) words per each unique route. Every love interest has their own story that will greatly change and take you to new locations, and allow you to meet new people.
3 love interests
9 endings currently planned
Side sprite MC
Side character sprites
Optional 18+ scenes
Choose your personality: Your choices will add stats to the MCs personality. Mix and match different traits to shape different scenes and find your ending.
Players can choose choices based on 9 different traits:
Strengths: Confident, practical, witty
Flaws: Impulsive, naive, spoiled
Rule: Aggressive, strategic, gentle)
Endless replayability: As you shape your destiny choices are never locked out. Your choices will continue to unlock different facets of the MCs personality, offering a variety of directions for the story to twist and turn.
Specs
Commercial game
In-game hint version
Guide will be available
Customization
I'm currently playing around with how far I want to go with customization for the MC. So far you can change their body type and pronouns.
Conclusion
Hopefully you guys are just as excited as I am!
Here's a sneak peek of the MC: