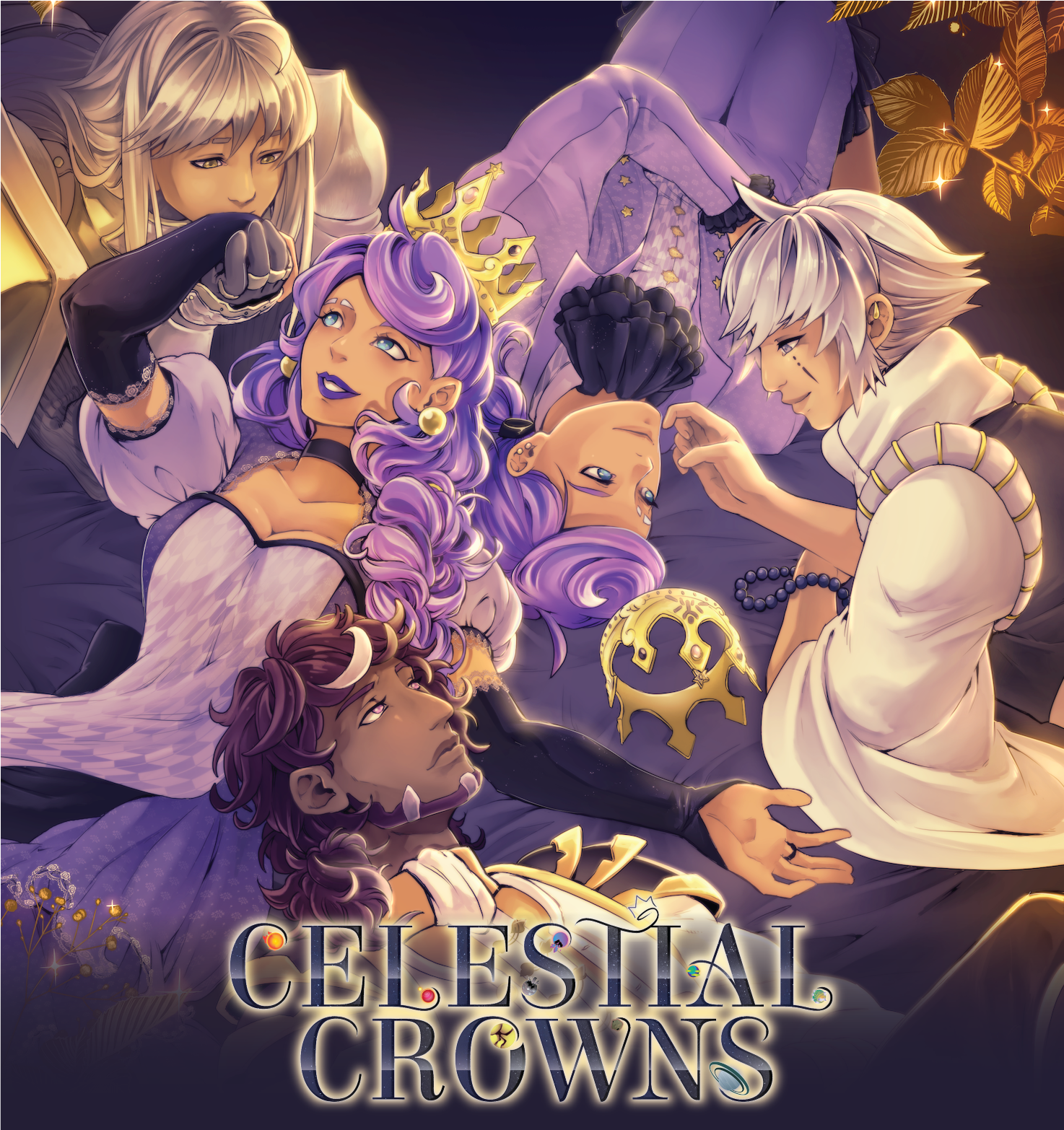 Celestial Crowns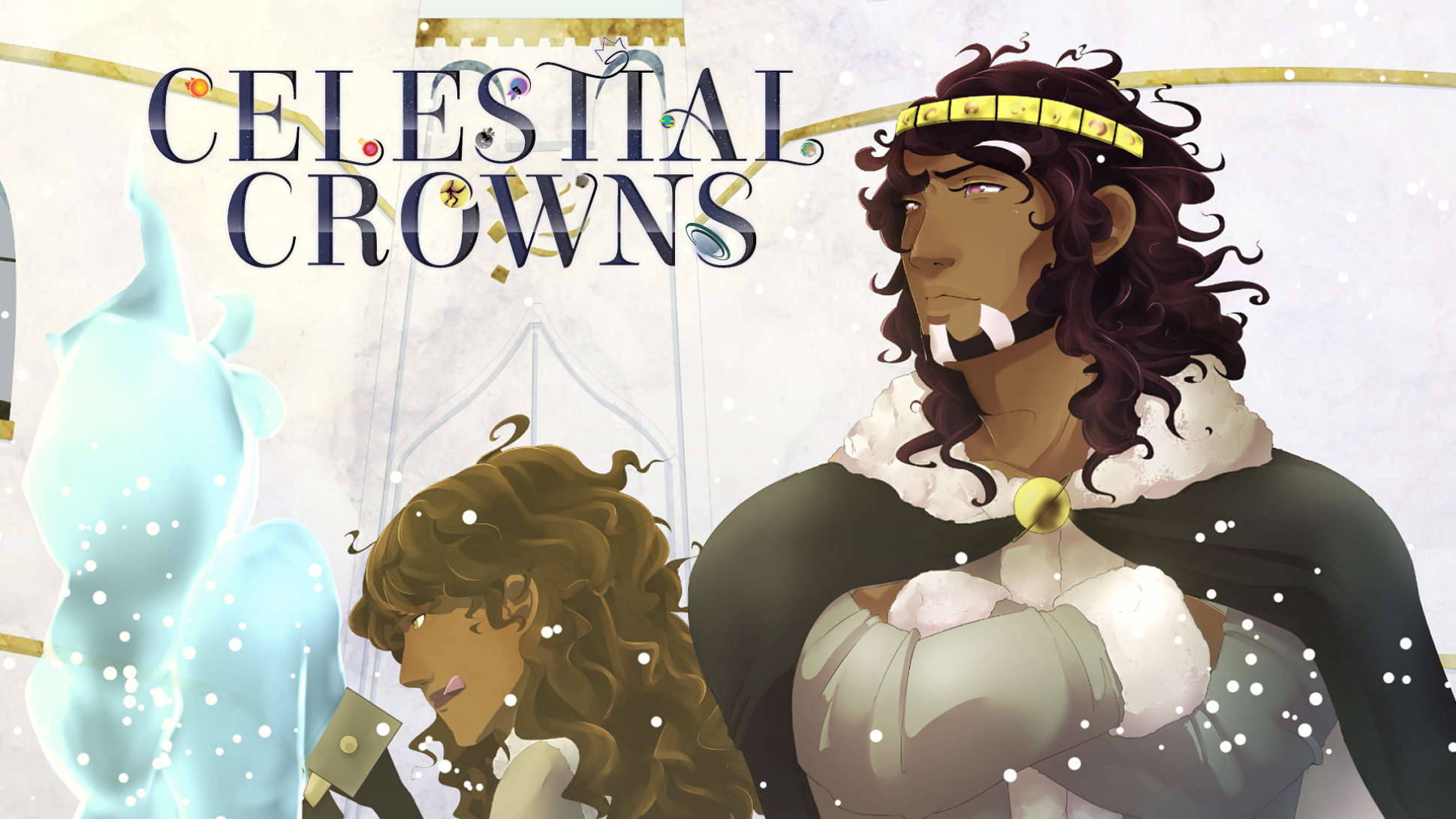 Hello all! Above you'll see a teaser for one of the images that'll be in the Celestial Crowns trailer. Ice sculpting is a common event in Andromeda. But what's King Aalam so upset about??
Intro
This is a brief update to get you guys up to speed with what we've been working on this month. And there is a lot!! In case you missed it, the pre-launch page for our Kickstarter is live! Check it out here: https://www.kickstarter.com/projects/harlevin/celestial-crowns
Art
The CG artist has completed all 3 CGs that will be featured in the demo! While there will only be 3 CGs in the demo, there will be many more in the final game's prologue! Likely ten. From here she'll be working on posters for the Kickstarter. I can't wait to show them off! Check out this teaser of the third CG.

What is Aalam doing that has Terra so shocked?? Find out soon! We are so close to the kickstarter and thus the release of the demo, I can't believe how fast time has flown.
The BG artist has also been working super fast! There are 2 BGs to show, one in progress and one complete. The garden and the training grounds, respectively. Terra loves walking around the gardens!


Writing
King Aalam's route is still in progress! I have been adding/adjusting content in the outline as I go. So while I'm on scene 5 in the outline, I'm on scene 11 in the game. This means the route will be longer than intended, but that's nota bad thing!
SPOILER ALERT! Here's a little scene with Andrea. This is from a naive choice.
"Overwhelmed, I burst into tears."
"I just want to go home...but I can't. I'm stuck here, in this horrible, cold place filled with horrible, cold people."
"By the time I manage to wade through my melodramatic thoughts and gain a little clarity, I'm shivering."
"I should get up and go back into the castle, but I just can't bring myself to. As if staying out here will delay my future at all."
"A sigh slides past my lips. In my next breath, warmth comes around my shoulders."
"I look up, startled at the thick blanket settled on me."
Terra "Huh?"
Andrea "Next time, inform me when you want to remain outside for an extended period of time. I will get you something more suitable."
Terra "O-oh..."
"I try to wipe my face and hope Andrea doesn't notice my tears. The last thing I want is them thinking even worse of me."
Terra "Thank you. It's warm."
Andrea "Yes, one has to know how to keep warm in Andromeda."
"Andrea sits next to me and crosses their legs. I stare ahead at the ice sculpture before us, a beautiful depiction of a panther, or something like it."
Andrea"Did Ishaya say something to you?"
Terra "What?"
Andrea"I saw him looking self-satisfied. Now I find you crying."
"I wince. I suppose hoping they wouldn't notice was too much to ask."
Terra "I'm fine. Sorry for...sorry."
Andrea"Do not apologize. You are soon to be Queen of Andromeda. Whatever he said to you, it is not right. I could have him executed, if you'd like."
Terra "What?!"
"Andrea turns to me, straight-faced."
Andrea"It was a joke."
Terra "Oh...I—I didn't...you sounded so serious."
Andrea"I was. But your reaction tells me that is an unusual suggestion in Lauté, so I thought to offer you a more comfortable way of thinking about it."
Terra "Th-then why did you tell me?"
Andrea"Distraction."
"Andrea stands."
Andrea"Come, let us get back inside. It is too cold outside for those flimsy things you're wearing."
"I wrap the blanket tighter around myself and follow Andrea back to the castle."
Conclusion
I am working on getting all of the Kickstarter rewards, as well as the page, prepared. So far everything is on track except for the keychains, I will need to find a new artist. I hope to start working on the trailer next month to release it in April.
Home stretch you guys!